REPRESENTATIVE JASON ELLIOTTT HELPS GUIDE TEMP TAG LEGISLATION THROUGH THE HOUSE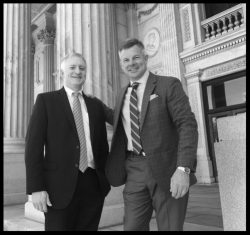 Please take the time to personally thank Rep. Jason Elliott (R-Greenville) for leading the charge during the committee process and on the House floor to secure a major victory with the passage of S.1083.  Rep. Elliott is already a star supporter of SCADA in his first term elected to the House. 
The bill is the product of SCADA, DMV and legislators working together over a period of time to create a safe and secure temporary license tag program available to Dealers.  Upon ratification of Acts the bill will be sent to the Governor's office for approval.
Rep. Jason Elliott : 116 E. Montclair Ave., Greenville 29609
(803) 212-6877,  jasonelliott@schouse.gov