The Ritz-Carlton, Amelia Island proved to be a fantastic host for our 81st Annual Convention and the weather cooperated enough to allow us several days of sunshine and outdoor activities! Here is a look back at the 2018 Annual Convention.
By the Numbers: In total, we had a record setting attendance of 291 attendees which included 29 Board Members, 10 Past Presidents, 5 YDG Members, 39 Dealers and Dealership Personnel, 73 Dealer Guests, 45 Sponsors, 5 Associate Member Non-Sponsors, 24 Associate Member Guests, 32 Children and 29 Teens! 
Annual Dealer Business Meeting: At this year's Dealer Business meeting, there were several highlights including the presentation of the Past President Jacket, the official nomination of the new 2018-2019 Board Slate, and the honoring of our SC TIME Dealer of the year, Jim Benson. 
Competition: It wouldn't be an SCADA event without a little friendly competition! Lois and Ella Cooper (Cooper Motor Company) took home the President's Cup Fishing Tournament Trophy for the Largest Fish caught, a 6'4″ shark! On the other end, Trey Trammel (AutoPoint | TitleTec) left with the Magnify Glass Award for the Smallest Fish for catching a 5″ Croaker. The Golf Foursome made up of Walker Floyd (King Cadillac Buick GMC), Don Johnson (Stokes Automotive) and Jason Earle and John Middlebrooks (Cox Automotive), took 1st place at the SCADA Open Golf Tournament with a 59 at the Golf Club of Amelia Island. 
Photos: Photos from the entire Convention weekend are now available for download on Deremer Studios' client gallery.  By using the link and password provided below, you can access a generous collection of photos. You will also notice photo albums from the past several conventions are available in case you missed them. Full resolution images can be downloaded free of charge, and should you wish to order prints, you can do so at a discounted rate directly from the site. 
SCADA Convention Photo Gallery
Password (Case Sensitive): SCADA17SC
SPONSORS: We must take another opportunity to recognize our generous Sponsors that made this convention possible. We are grateful for their partnership in our Association and we hope you'll benefit from the relationships with these associate members and the array of services they offer.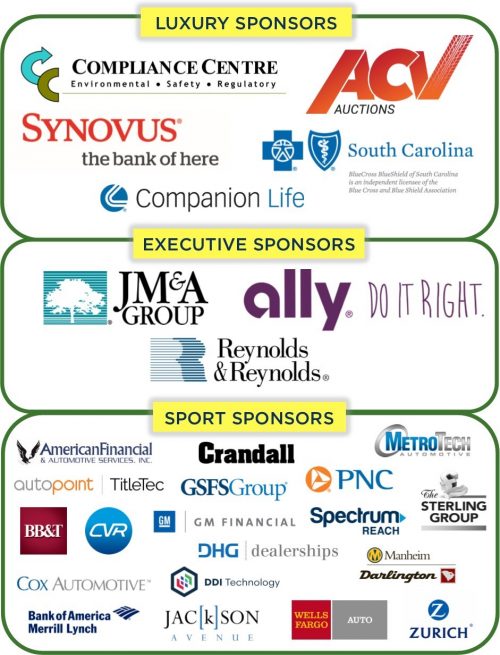 If we missed you at this year's Convention, we hope you'll consider being a part of the 2019 Annual Convention next year as we head to Lake Oconee, GA to the Ritz-Carlton Reynolds. Please mark May 17-19, 2019 on your calendar and plan on bringing your entire family along for another great event!